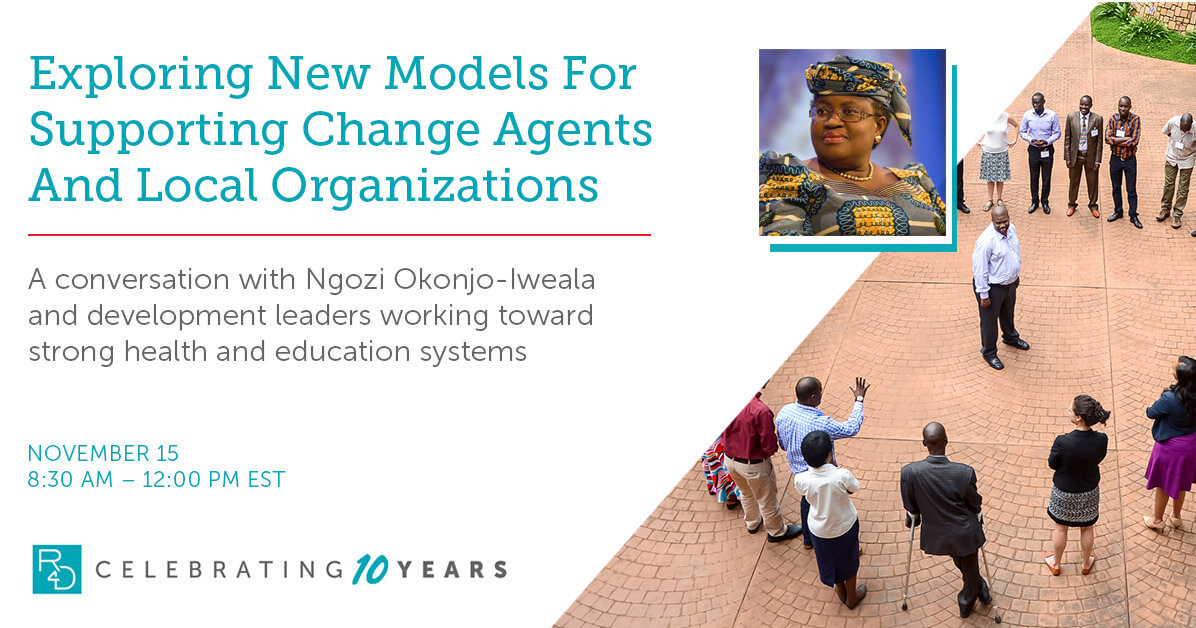 As we celebrate our 10th anniversary at Results for Development and renew our focus on supporting change agents and local institutions, we are asking ourselves how best to do this. We are also asking what role an international NGO should (and shouldn't) play as country expertise and capacities grow — and what capacities and functions are essential for strong self-reliant systems. 
We know that many others are grappling with similar questions, so we have decided to convene several thought leaders on this topic, including country change agents as well as funders and implementing organizations who are considering new models for country engagement.
We hope you will join us for a morning of conversation to tackle these questions and more.
Schedule
8:30 am – 9:00 am: Catered breakfast and networking
9:00 am – 9:15 am: Welcome
9:15 am – 9:45 am: A conversation with Ngozi Okonjo-Iweala led by David de Ferranti
9:45 am – 10:45 am: Panel 1: What local and regional change agents need from their international partners.
– Midori de Habich, Former Minister of Health, Peru
– Desta Lakew, Director of Partnerships for Africa, Amref
– Maureen Samms-Vaughan, former Chair of the Early Childhood Commission, Jamaica
– Pierre Barker, Chief Global Partnerships and Programs Officer, Institute for Healthcare Improvement
– Jaime Saavedra, Senior Director Education, The World Bank Group
– Moderated by Cheryl Cashin, Managing Director, Results for Development
10:45 am – 11:00 am: Break
11:00 am – 12:00 pm: Panel 2: How is the international community responding?
– Mary-Ann Etiebet, Lead and Executive Director, Merck for Mothers
– Emmanuel Jimenez, Executive Director, 3ie
– Wendy Kopp, CEO and Co-founder, Teach for All
– Gina Lagomarsino, President and CEO, Results for Development
– Kelly Saldaña, Director, Office of Health Systems, USAID
– Moderated by Masood Ahmed, President, Center for Global Development